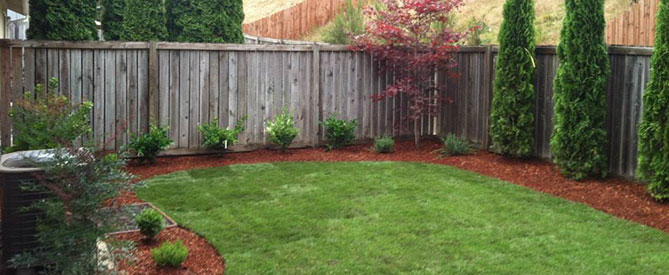 The only thing better than a well maintained landscape is when you don't have to do it yourself!
Residents, business owners and office managers in Olympia, Lacey, Turnwater, and the surrounding areas rely on the prompt, pleasant and professional service that Buds & Blades provides. Wouldn't you like to park the mower for good? Or maybe you've been using a landscaping service that isn't providing the level of care your property requires. In either event, we can help.
Weekly Maintenance
Our service begins with regular visits March through October, and twice monthly visits during the winter months. We can tailor the service to meet your needs, from basic trimming and mowing, to all inclusive landscape care. We take pride in treating each property better than our own, and we treat each client property as the unique landscape it is, commercial or residential.
Weekly Service is the foundation of the Residential services we provide, and can include:
Mowing and Trimming
Landscape Bed Maintenance
Blowing of Drives, Walks, Patios and Decks
Fertilization and Weed Control
Irrigation Maintenance
Pruning and Hedging
Turf and Tree Pests
Snow Removal
Annual Color
We also provide Landscape Enhancements to our Residential Clients:
Mulching
Planting – Trees, Shrubs, Flowers
Lawn Revitilization
Aeration, Seeding and Dethatching
We just finished our independent inspection… and I personally wanted to thank you and your grounds crew for a wonderful job or maintaining and the upkeep of our three properties. We received major kudos on our flower beds and overall landscape. The inspector took a lot of pictures and was very complimentary on the beautification or our properties and we have you and your grounds crew to thank!